THE BIG THREE
---
McCARRON, BLUM, TUTOR
The Big Three Alliance within the Carpenters Union consists of Carpenters Union General President Douglas McCarron, Carpenters Union Pension Financial Advisor (and husband of California Senator Diane Feinstein) Richard Blum, and Los Angeles Red Line (subway) contractor and Carpenters Union Pension Trustee and President of the California Contractors Association Ronald Tutor.
$$$$$$$$$$$$$$$$$$$$$$$$$$$$$$
These three individuals -McCarron, Tutor, and Blum- head the Carpenters Union and decide what is done, and when. These three individuals are also on the board of directors of the Massachusetts-based Perini Construction Company. They receive a salary from the Carpenters Pension Trust, as well as stock options from Perini Construction.
---
Excerpt from Perini Corporation May 14, 1998 Proxy Statement ELECTION OF DIRECTORS
In accordance with the Company's By-Laws and Massachusetts law, the Board of Directors is divided into three approximately equal classes, with each Director serving for a term of three years. As a consequence, the term of only one class of Directors expires each year, and their successors are elected for terms of three years. The Board of Directors is presently comprised of 13 members as follows:
Class I: Marshall M. Criser, Arthur J. Fox, Jr., Nancy Hawthorne, and Michael R. Klein were the four nominees elected as Directors at the 1996 Annual Meeting to serve until the 2000 Annual Meeting of Stockholders and until their successors are chosen and qualified.
Class II: Richard J. Boushka, Roger J. Ludlam, Jane B. Newman, and Ronald N. Tutor are the four nominees for election as Directors at this Annual Meeting to serve until the 2001 Annual Meeting of Stockholders and until their successors are chosen and qualified. Mr.Bart Perini, a current Class II Director, will not be a nominee for re-election.
Class III: Albert A. Dorman, John J. McHale and David B. Perini were the three nominees elected as Directors at the 1996 Annual Meeting to serve until the 1999 Annual Meeting of Stockholders and until their successors arc chosen and qualified. Effective January 17, 1997, Douglas J. McCarron was appointed a Class III Director by the Company's Board of Directors to serve until the 1999 Annual Meeting of Stockholders and until his successor is duly elected and qualified.
Unless otherwise noted thereon, proxies solicited hereby wi11 be voted for the election of Messrs. Boushka, Ludlam and Tutor, and Ms.Newman as Directors to hold office until the 2001 Annual Meeting of Stockholders and until their successor are chosen and qualified. The Board of Directors does not contemplate that any nominee will be unable to serve as a Director for any reason, but, if that should occur prior to the meeting, the proxy holders will select another person in his or her place and stead.
Fees for outside Directors of the Company currently consist of an annual retainer fee of S16,000, plus $900 per Board meeting attended, as well as $900 per Committee meeting attended by members of the Audit, Compensation and Nominating Committees, and $4,000 per meeting attended by members of the Executive Committee. Mr.Ronald N. Tutor, acting Chief Operating Officer of the Company since January 1997 and Vice Chairman of the Company since January 1998, has opted to receive no Director fees since he is party to a Management Agreement. During 1997, the Directors received payment of their annual retainer fee of $16,000 in shares of the Company's Common Stock on April 9, 1997. The number of shares was based on a price equivalent to the fair market value, as defined, of prices prevailing on the American Stock Exchange on the date issued and aggregated 2,285 shares of Common Stock for each Director, except for Mr.Tutor and Mr.McCarron, the latter of which has requested that his fees be paid directly to his employer. Meeting fees are paid on a quarterly basis in cash.
On January 17, 1997, the four non-employee Directors on the redefined Executive Committee were granted options to purchase shares of the Company's Common Stock, $1.00 par value, at fair market value at the date of grant. The terms of these options, which expire on January 16, 2005, are generally similar to those granted under the 1982 Stock Option Plan, except as to the timing of their exercisability which is May 17, 2000 Messrs. Criser, Klein and McCarron each received options to purchase 25,000 shares, the latter of which assigned his options to the Union Labor Life Insurance Company Separate Account P, a pension fund of which he is a Trustee, and Mr.Tutor received options to purchase 150,000 shares.
---
Can McCarron, Tutor, and Blum run a Union, Pension Trust, and a Multi-Million dollar construction company at the same time?!
Why doesn't the Department of Labor-Racketeering and Corrupt Organizations Act (RICO) and the Department of Justice investigate this matter?!
$$$$$$$$$$$$$$$$$$$$$$$$$$$$$$
Ronald Tutor's (Subway Builder) Link to Union Questioned
As a trustee of the Carpenters Union Pension Fund, Ronald Tutor is prohibited by federal law from engaging in any business transactions that amount to self-dealing or that may conflict with the interests of the Pension Fund.
While serving as co-chairman of the regional Carpenters Pension Fund, contractor Ronald N. Tutor, Pension Fund Chairman Douglas McCarron, and thier partners in boxing operation, Ten Goose Boxing, staged televised bouts at a Palm Springs hotel owned by the fund.
Tutor said he would welcome a review of his operation. "The government can come out and investigate anything they like," he said. "We've got legal advice on everything we do."
Tutor is president and chief executive officer of Tutor-Saliba Corp., based in Sylmar. The construction firm has won more than $400 million of Metro Rail subway contracts over the past six years. Much of the work has been performed by members of the Carpenters Union.
Since the late 1980's, Tutor has served as co-chairman of the Carpenters Pension Trust of Southern California, a $1.3 billion retirement pool funded by Union members and their employers.
Tutor, co-chairman of the Pension Trust,has developed a close working relationship with Douglas J. McCarron, the top Carpenters Union official in Southern California.
Tutor and McCarron were instrumental in hiring the Richard Blum firm, Blum Associates, whose compensation in 1991 was by far the highest paid to any advisor by the pension fund, tax records show.
For one of its biggest promotions, Ten Goose, with Tutor's assistance, did business with the Carpenters Pension Trust of California. Ten Goose and promoter Dan Duva staged the event on June 1, 1991, at the Palm Springs Radisson-a $36 million hotel-resort complex owned by the Pension Fund. The matches were televised nationally by the Home Box Office network.
Union leader McCarron is also a good friend of Ten Goose Boxing.
The Carpenters Union over the past few years has paid thousand of dollars to be a "sponsor" of Ten Goose Boxing. The sponsorship permits the Union to display banners at fights and get ringside seats.
Goosen said he conferred with McCarron to arrange the June, 1991, fights at the Pension Fund's hotel in Palm Springs. "I spoke to Doug on it. He wanted it out there," Goosen said.
The Tutor-Saliba Corp. and the Los Angeles District Council of Carpenters sponsored various fights at the Country Club in Reseda, California. The conflict of interest is so great that the ringside physician, Dr.Robert Karns, at those fights is also contracted by the Carpenters Pension Trust (through which he made nearly $25,000 in 1995) to examine medical records of pension claimants that must submit evidence of disability for disability claims. Talk about keeping it all in the family!
$$$$$$$$$$$$$$$$$$$$$$$$$$$$$
There have been four deaths on the Red Line Subway project in the last two years, and yet CAL-OSHA hasn't once even shut down the job site.
"MTA CONTRACTOR (Ronald Tutor) UNDER FIRE: Tutor-Saliba violated rules in harassment case."
-Los Angeles Daily News, March 30, 1996
"MAN WINS $22.65 MILLION JUDGEMENT: Jury finds contractor (Ronald Tutor) negligent in 1994 Coliseum fall."
-Los Angeles Daily News, August 10, 1996
"FALLING BIN KILLS (Red Line-Ronald Tutor) SUBWAY WORKER"
-Los Angeles Times, February 16, 1997
CLICK HERE to see even more explosive information about Ronald Tutor and the Red Line Subway project.
$$$$$$$$$$$$$$$$$$$$$$$$$$$$$$
Mr.Blum makes an annual salary of approximately $4 million as the Financial Advisor of the Carpenters Pension, and his wife, Senator Dianne Feinstein, is one of the candidates that receives the largest sum of contributions from the Carpenters Union.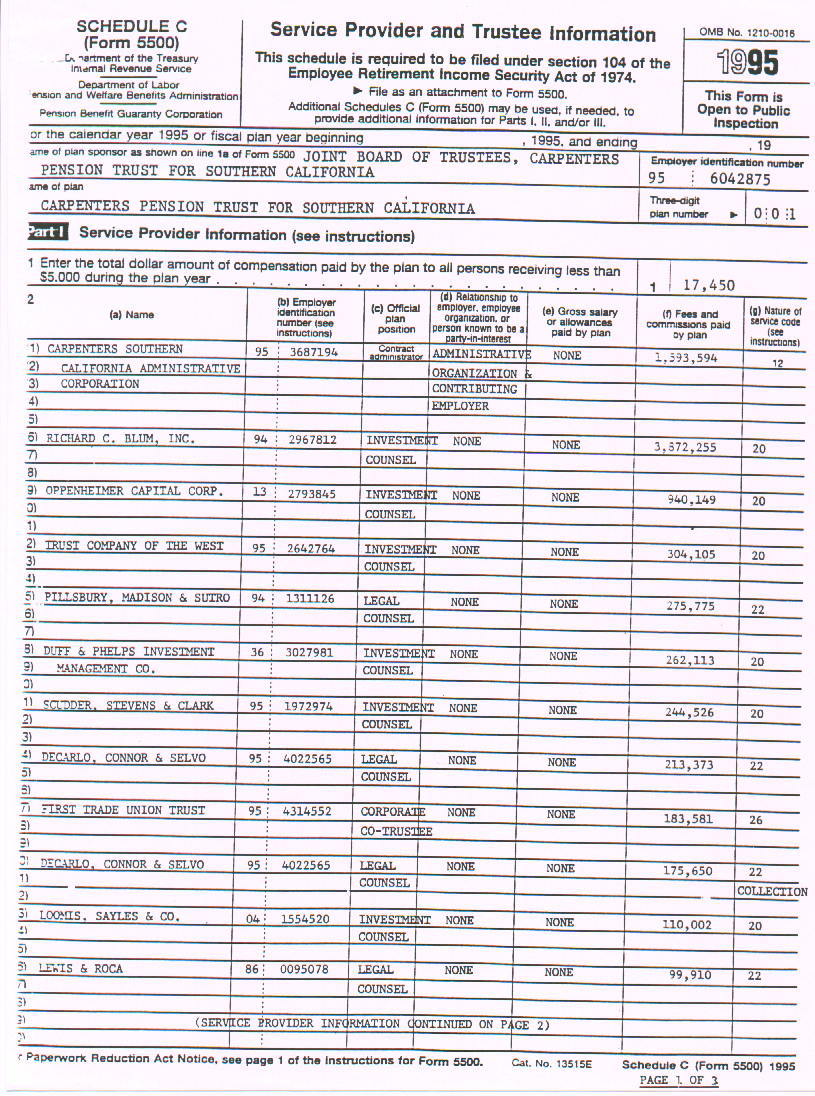 Note where the members' money is going to. Why does McCarron need to dish out all of that money for legal counsel?! Is it so that he has protection from all of the illegal activities that he commits and so the lawyers can fight against the members; the very members that pay their salaries!
And why is Richard Blum (Senator Dianne Feinstein's husband) paid nearly $4 million of members' money, so that he can invest millions of dollars of members' money into non-Union companies?!!!
---
BLUM GETS A HEFTY BONUS IN SOUTHERN CALIFORNIA.

Richard C. Blum, husband of California Senator Dianne Feinstein was paid the following sum of money from the Southern California Carpenters Pension Trust.


$4,493,058.00 was his regular consulting fee for 1998, plus he received the following:

$28,327,542.00 As a performance fee which is based on cumulative net investment income of $332,876,190.00, Representing a 35.28% Annual Yield on investment, for the period July 1, 1994 to June 30, 1998.

In 1997 he received as a consulting fee the amount of $7.8 Million.

What type of an increase did the retirees receive from 1994 to 1998?
Was it 5% increase which amounts to $40.00 to $70.00 for the average carpenter, plus a temporary 13th check. This figure is far from the $32 Million received by Blum.

---